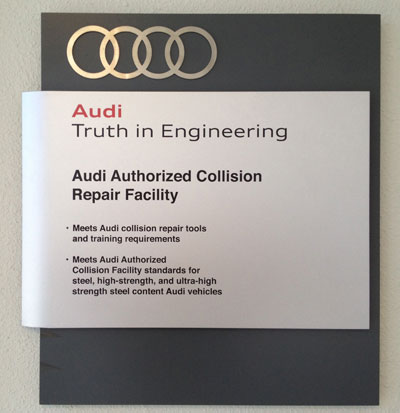 Should your Audi vehicle be damaged in a collision, Audi wants to ensure that you have access to a repair facility that meets not only their high standards for workmanship, integrity, and safety, but your standards as well. Highly specialized collision repair standards are required to maintain the high crash standards Audi engineered into steel and high-tensile steel frame, body and chassis components.
We are equipped with Audi factory recommended tools and the equipment needed to meet Audi Authorized Collision Repair Facility Program Requirements. Our intensive training and certifications at I-CAR® facilities help ensure the highest level of collision repair expertise.
By choosing Pray Body Shop, an Audi Authorized Collision Repair Facility1 , you can be sure that the correct parts and procedures are used to repair your Audi.
Why you should demand repairs by an Audi Authorized Collision Repair Facility:
Eligible customers receive complimentary towing via Audi Roadside Assistance2 to our Authorized Collision Repair Facility.
The advanced aluminum structures of A8, R8 and TT models as well as the complex construction of the entire Audi line, require the materials and expertise found only at an Audi Authorized Collision Repair Facility.
Audi Genuine Parts are engineered, manufactured and tested to help maintain the original performance and restore structural integrity of your Audi after repair.
Limited warranty covers all Audi Genuine Parts.3
Audi trained repair technicians use factory-approved procedures that help produce safer repairs and get you back on the road in less time.
We have made extensive investments in Audi specified tooling to help ensure that our technical staff has the right tools for all repairs.
With the certification, we are included in a limited network of shops factory-authorized to repair Audi vehicles made with ASF aluminum construction.
First-quality repairs help maximize the value of your vehicle.
Lifetime limited warranty on paint repairs through OEM paint suppliers.4
1 Audi Authorized Collision Repair Facilities are independent businesses not affiliated with Audi of America, Inc.
2 Audi Roadside Assistance provided by a third party.
3 12 months or 12,000 miles, whichever comes first. In the event that a replacement part fails within the warranty period, labor costs to replace that part will be covered. See dealer for details.
4 Details available upon request.